BIZON company
The company was founded in 2003.
We specialize in outdoor advertising and promotional designs. Our own production facility in Kiev allows us to deliver orders in no time with excellent quality. If you need a sign, light-box, in fact any outdoor advertising construction – please email us.
We are sure to contact you as we are driven to create masterpieces, which will make your business an ultimate success.
Cooperating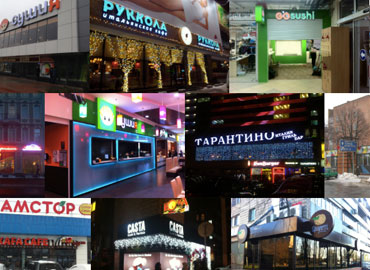 Our Clients
A number of Ukrainian and international companies have become our clients in the past 10 years. Among them are the largest chain restaurant companies: KFC, DOMINO'S PIZZA, MAFIA , SushiYa , Murakami , L'KAFA, Coffee Time , Vienna Buns , Papa John's and many others. Besides outdoor advertising, we produce interior design items: lamps, lighting columns, paintings, bubble-tubes and bio-fireplaces. There is nothing impossible for us!
Manufacturing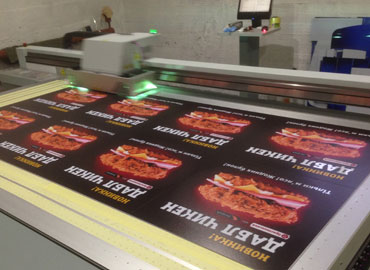 Manufacturing
BISON company owns spacious production facilities (830 sq. m) with modern equipment. The machinery includes: "ROLAND SJ-745EX" for large format solvent printing; "OCE ARIZONA 350GT + White" for UV-printing on the sheet and roll materials; "AXYZ 6010" for 3D milling of sheet materials; "JAGUAR IV" for plotter cutting of self-adhesive films. Our arsenal also includes welding and paint shop and an assembly line, which employ professional staff of 52.